Back to all posts
Posted on
Kindness Challenge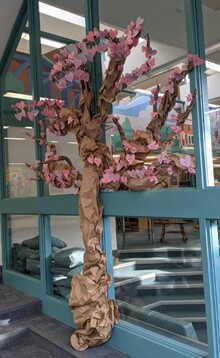 This past week, we celebrated all of the kindness going on at our school with the creation of a Kindness Cherry Blossom Tree. The Grade 7 Shakeshaft class, along with Mrs. Lefevbre, created week long challenges, where all students had to complete kindness acts. All of the Grades at Sacred Heart participated in Kindness Challenges throughout the week such as: Mathematics Kindness Monday, Talk the Talk Tuesday, Wellness Wednesday, and Thankful Thursday. All of the kind deeds completed were recorded by classroom teachers and transferred by the Grade 7 Shakeshaft Class onto hearts and cherry blossoms and posted on our tree. Huge congratulations go out to all grades who have submitted names for the Kindness Challenges, as you are building our tree! Please have a look at what it looks like so far! (pic here)
As well, we celebrated Be Kind Day with wearing our Pink Shirts to show how we support Being Kind as a school. We had SO many pink shirts on Wednesday, but we had 3 classes that had 100% participation - these were Grade 2 Tatlow, Grade 3 Murphy and Grade 9 Mastel. As challenge winners, all 3 classes will participate in a Kindness Pizza Party tomorrow, March 2, 2021 for lunch!! Please congratulate these classes on their amazing accomplishment!
AND FINALLY: the kindness just does not stop - we are continuing our challenges to be week long kindness challenges, starting tomorrow, March 2. Our first kindness challenge will be in conjunction with LENT - March into March with Manners: The challenge this week will be to politely ask for what you need and thank all of those who help you in your quests. 
Huge thanks to Mrs. Lefevbre, Mrs. Kircher, Mrs. Chrunik and Mrs. Shakeshaft for making this venture possible!