Back to all posts
Posted on
Our Prayers and Support Go Out to the Humboldt Community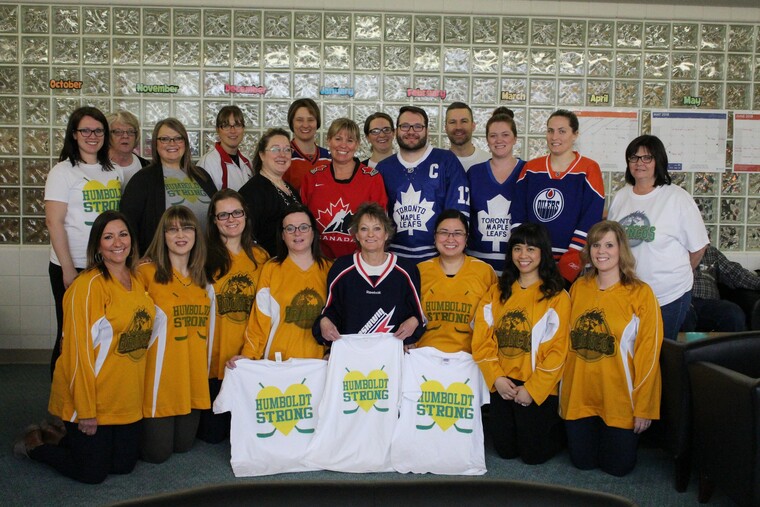 Being a small town hockey community, we at Sacred Heart School share in the sorrow, pain and loss for the community of Humboldt. We have offered up our morning prayers for all those affected by the tragic bus accident and we are joining together as a school in various ways to fundraise money to donate to the families affected.

As a sign of our support, our staff and students have initiated several fundraisers for the Humboldt Broncos Go Fund Me Page.

On Tuesday our students ordered Pizza as Hot Lunch and 100% of the money spent on Pizza was donated. We raised roughly $650 for the Broncos.

On Thursday at our school, we joined the rest of our country in solidarity on Jersey Day. Don at Coach's Source for Sports donated Jerseys and T-shirts with the Humboldt Broncos logo silk screened on them. Teachers made donations to purchase them with all proceeds going to the Humboldt Broncos Fund. This endeavour added an additional $600 to our fundraising efforts.

On Friday, our Student Leadership team has made green ribbons and are selling them to the students for $1.00 each next week. All supplies were donated by one of our teachers and all money raised will be going to the Humboldt Broncos Go Fund Me Page.
Our Christian belief does not view death as an ending, but rather we view it as a change. Because life has changed, not ended, we continue to have communion with all those who have gone before us in death. Our prayers for those who have died and their prayers for us are the way we celebrate this relationship. 

Lord Jesus, we pray for all those lives that were tragically taken in the bus accident. We pray that eternal rest would be grant unto them. We also pray for their families and teammates who are suffering and grieving and also for the truck driver that he can come to a place of peace and forgiveness in his heart. We trust in your infinite mercy and love and we ask that you comfort those in pain, in sadness and those suffering from the loss of a child, a husband and a friend.
"Indeed for your faithful, Lord, life is changed not ended, and, when this earthly dwelling turns to dust, an eternal dwelling is made ready for them in heaven." 
Let eternal light shine upon them, and eternal rest grant unto them, O Lord, and let perpetual light shine upon them, with your Saints forever, for you are merciful.
Amen.