Back to all posts
Posted on
2023-2024 Bus Registration - DEADLINE JUNE 15, 2023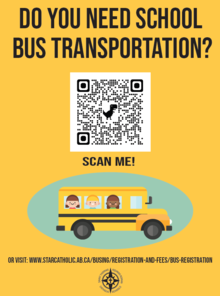 If your child(ren) will be taking the bus during the 2023-2024 School year, please register them before June 15th. 
https://www.starcatholic.ab.ca/busing/registration-and-fees/bus-registration
Bus Registration is required for both returning students and new students. Bus space is limited, so any requests made after June 15th are not guaranteed. Registrations received after this deadline will be processed later over summer, as space allows.