Awards and Scholarships
Sacred Heart School Scholarship Foundation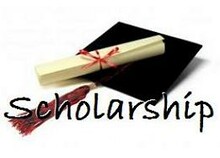 The Sacred Heart School Scholarship Foundation provides academic scholarships to high school graduates who completed grade 9 at Sacred Heart School. The scholarships range from $100.00 to $2000 depending on the student's end of year average. The scholarships are non-competitive and all students who achieve an honours standing will be eligible for the awards.
Because we are a Foundation, we do collect a $5.00 annual membership fee. Also, we are a registered charity so anyone who makes a donation to us will be given a tax-deductible receipt.
Contact Janice Bilyk or Tara McBride for more information.
Safe and Caring School Awards
With "Niska" as our mascot, we promote the Safe and Caring program with weekly and monthly themes.   We are being
proactive by keeping children safe from bullying by teaching social and cultural understanding and respect. We have monthly Safe and Caring Assemblies (S.A.C.S.) featuring a virtue of the month and award certificates to students who have shown an
understanding  or gesture of that month's virtue.